ANNIVERSARY

Preis Österreich: € 115.900.-
Einen Toast auf 100 Jahre beflügelnde Fantasie mit beispielloser Qualität und Technik. Brough Superior feiert seine hundertjährige Geschichte mit einer luxuriösen Inkarnation der "S.S.100" und der "Pendine Sand Racer".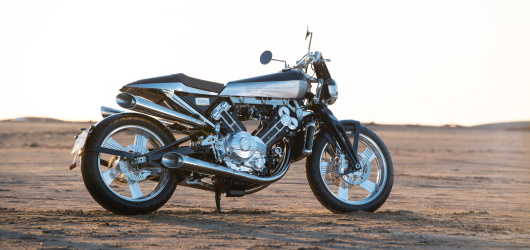 Das Jubiläumsmotorrad kombiniert die klassischen DNA der "S.S.100" und die einzigartige Technologie der "Pendine Sand Racer" mit dem Besten, was moderne Handwerkskunst zu bieten hat.
Brough Superior hat nur 100 dieser prächtigen und dennoch unauffälligen Motorräder hergestellt.
Weitere Informationen: Prospekt Anniversary
 

ANNIVERSARY



A toast to 100 years of igniting imagination with unparalleled quality and technicality. Brough Superior celebrates its centenary history with a deluxe incarnation of the S.S.100 and Pendine Sand Racer.
The Anniversary bike combines the classic DNA of the S.S.100 and the unique technology of the Pendine Sand Racer with the best modern craftsmanship has to offer.
Brough Superior has crafted only 100 of these sumptuous yet stealthy motorcycles.
 More Informations: Brochure Anniversary